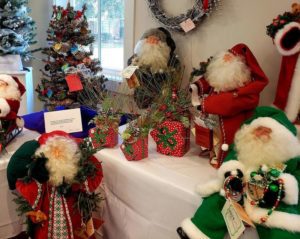 Artists of the Society of Bluffton Artists (SOBA) are creating original, one-of-a-kind handmade gifts for their Christmas Bazaar, which runs from Nov. 7 through Jan. 1 in the featured artist room at the gallery in Old Town Bluffton. A selection of handmade Christmas items also will be available from 12-5 p.m. Dec. 4th during the Holiday Artisan Market at the May River Lawn in Palmetto Bluff.
The SOBA Christmas Bazaar offers the community a unique place to shop
for the holidays with hundreds of hand-created works by local artists — including wreaths, small paintings, holiday decor and other gift items.
"The Christmas Bazaar is a SOBA wintertime tradition — perfect for those shoppers looking for something unique this holiday season," said Marie Burgeson, SOBA's president.
The boutique is open from Nov. 7-Jan. 1. The SOBA gallery hours of operation are from 10 a.m.-5 p.m. Monday-Saturday and from 11 a.m.-3 p.m. Sundays.