The Beaufort Bookstore, in partnership with the nonprofit Pat Conroy Literary Center, will host an evening with New York Times and USA Today bestselling novelist Therese Anne Fowler, author of It All Comes Down to This, in conversation with Conroy Center executive director Jonathan Haupt. This free event will be held on Tuesday, August 30, at 5:00 p.m., at the Beaufort Bookstore, 2127 Boundary St., Ste 15. Books will be available for sale and signing. Call Beaufort Bookstore to reserve your seat: 843-525-1066.
The author conversation will also be live-streamed on the Conroy Center Facebook page, www.facebook.com/patconroyliterarycenter.
In Fowler's latest novel, we meet the Geller sisters: Beck, Claire, and Sophie, a trio of strong-minded women whose pragmatic, widowed mother, Marti, will be dying soon. Her will directs that the family's summer cottage on Mount Desert Island, Maine, must be sold, the proceeds split equally between the three girls. Enter C.J. Reynolds, an enigmatic southerner ex con with his own hidden past who complicates the situation. All is not what it seems, and everything is about to change.
Booklist calls It All Comes Down to This "A tightly coiled family saga,"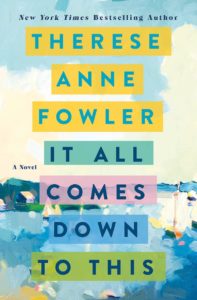 saying, "Fowler expertly peels back the layers of each character in this page-turner, making for a highly entertaining summer read."
Jess Walter, #1 New York Times bestselling author of Beautiful Ruins, writes, "A smart and lively novel, one that had me turning its pages faster and faster, wondering if this indelible family could really untangle the deep lies that reveal an even deeper truth."
 And Good Morning America says, simply, "Fowler has done it again."
Therese Anne Fowler is the New York Times and USA Today bestselling author of several novels, including A Good Neighborhood and A Well-Behaved Woman, both finalists for the Southern Book Prize for fiction. Her novel Z was adapted as a television series starring Christina Ricci as Zelda Fitzgerald. Therese earned a BA in sociology/cultural anthropology and an MFA in creative writing, both from NC State University. She lives in Raleigh, NC, with her husband, award-winning author John Kessel.
Learn more about the Beaufort Bookstore at www.facebook.com/TheBeaufortBookstore and more about the Pat Conroy Literary Center at www.patconroyliterarycenter.org.