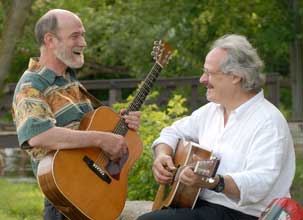 Known for bringing a broad spectrum of music to the Lowcountry, Fripp Island Friends of Music continues its tradition with Mustard's Retreat. On their way to Fripp, Mustard's Retreat will be opening for Peter Yarrow. How's THAT for an endorsement?!
Guitarists David Tamulevich and Michael Hough met in Ann Arbor, MI, in 1974. Now, with more than a dozen CD's, 4,000-plus shows and over a million miles traveled, they've earned a dedicated, loyal, enthusiastic following. Michael and David joke on stage about attracting people "with LONG attention spans," but it's what Mustard's Retreat gives audiences that turns them into such die-hard fans. Spike Barkin, who produces the prestigious Roots of American Music Festival at New York City's Lincoln Center, wrote thanking them for their "folk from the heart." He said it's as if David and Michael "take your living room on the road with you and invite people in as friends."
"I work with them several times a year and always wish it was more." said Canadian songwriter Garnet Rogers. "The thing that always impresses me is the incredible openness they have with the audience. They stand up there and just radiate friendliness; the audience is included in the whole process, encouraged to sing along and talk back. I've learned a lot from them…"
"They are so warm and friendly and giving on stage, completely in touch with their audience," said Tom Paxton, a folk music star for more than 40 years. "There are no barriers at all, and you just love to watch that and be part of it. But the thing that strikes me about them … why two guys can move you musically the way they do (is) they have a gorgeous sense of time and tempo, a real musicality to what they do. They're nice guys on stage and entertaining as hell, but there's also music in them."
While both Tamulevich and Hough are grounded in the early traditional 60s folk music boom, they also were influenced by the songwriters of that time, and their shows represent an eclectic blend of music, old and new, with a big dash of storytelling. "We have never performed the same show twice," says Tamulevich, "Each night is its own unique moment, unique audience. For us, that is the exciting thing, the magic: to craft a shared experience and leave people entertained and moved…and with moments and songs they will take away with them and remember, ponder, rediscover; hopefully for years to come."
Mustard's Retreat with perform Sunday, October 20th at 5 pm at the Fripp Island Community Center, 205 Tarpon Blvd, Fripp Island. Tickets are available at the door: Adults $25 per person/$10 students. All attendees get a free pass at the Fripp Gate and are invited to join the artists at an included catered reception following the performance. http://www.islc.net/friendsofmusic/
For more information, call 843-838-6655.