Fast-rising money manager Brent Lucas has no idea that the head of his new firm is a Christian fanatic or that his multi-million dollar job is a set-up until a billion dollars disappears from a clientís account – and until he ends up as the only suspect. Determined to clear himself, he goes to his clientís home where he finds only corpses.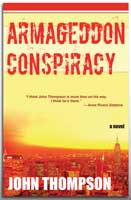 Narrowly escaping, Lucas runs from both the FBI and his would-be killers. Fueled by memories of his brotherís tragic death in the Trade Center and aided by his ex-fiancée, a beautiful cop assigned to the Project Seahawk anti-terrorism taskforce, Lucas begins to unravel a flawlessly planned conspiracy. He discovers his politically unassailable boss has masterminded a plot aimed at bringing about Armageddonówith stolen missiles, depleted nuclear fuel and a band of Muslim terrorists intent on killing the President. As the FBI closes in, Lucas launches his own desperate attempt to stop the madness before it is too late.

This is the world of Armageddon Conspiracy (Harbor House Books), the first novel of John Thompson, who spent twenty-five years as an investment banker in New York before retiring to Charleston to write full-time.
Best-selling southern novelist Anne Rivers Siddons (Peachtree Road) says of Armageddon Conspiracy: "It's amazing to me that Armageddon Conspiracy is a debut novel. Its pace is breathtaking, and yet the charac­terizations are deep and full, and the plot is both intricate and intelligent. I think John Thompson is more than on his way. I think he's there."
Acclaimed Charleston novelist Josephine Humphreys (Rich in Love) concurs, saying, "John Thompson's writing is lean and sharp, his narrative voice as assured as a veteran writer's. There's not a false step in this fast-paced thriller—a smart, suspenseful, believable book. I'm waiting for the movie."
High praise from some pretty spectacular sources!
When asked where he got the idea for Armageddon Conspiracy, Thompson replies, "My ideas come from a combination of three areas: my background on Wall Street, actual current events, and those first two areas combined with a healthy dose of 'what if.'"
About his controversial topic, Thompson says, "The growing influence of religious fundamentalism increasingly divides our world into sharply defined camps. There is the tendency away from tolerance as fundamentalists either demonize or depersonalize non-believ­ers or other-believers. Violence becomes increasingly possible when defended by extreme belief. While many or perhaps most Americans would agree with the above statements regarding Muslims, I thought a novel that posed some of the same possibilities for Christians would be both thought-provoking and exciting."
John Thompson is actively involved in his local commu­nity and serves on a number of non-profit boards. He currently serves as Chairman of the Charleston Education Network, a member of the Executive Committee of the Medical University of South Carolina Foundation, and on the National Advisory Board of Donors Choose, a charity selected by Amazon.com in 2005 as America's Most Innovative Non- Profit.
John Thompson will be signing copies of Armageddon Conspiracy on Saturday, November 8, from 3-5 pm at Bay Street Trading Co. in downtown Beaufort. For more information, call 524-2000.