Habitat Benefit to feature original pieces by David J. Lunin, Cassandra Gillens and Mick Csernica
By Wendy Nilsen Pollitzer
LowCountry Habitat for Humanity will present its UpCycled Art Auction: Look Again! on Friday, March 10 from 6-9pm at the Technical College of the Lowcountry Student Center. This year's event will be hosted by the iconic Deanna Bowdish, who will present the live auction as Beaufort's esteemed art auctioneer. The Honorary Chairperson of this favorite event is Barbara Krakehl, a LowCountry Habitat for Humanity volunteer for almost two decades. Catering will be provided by the coveted Debbie Covington, and the crowd will be entertained with the acoustic music of Beek Webb.
This year, the UpCycled Art Auction will feature three local artists who have created custom pieces to be auctioned by Bowdish. David J. Lunin of Evolve Furniture Studio, Cassandra Gillens and Mick Csernica of Tidal Creek Haven  will present their art along with many local and regional artists displaying and selling their work to benefit LowCounty Habitat for Humanity.
A Passion for Master Craftsmanship 
David J. Lunin creates surreal adaptations of traditional designs
Following your passion means exploring a vocation that sparks your interest, developing skills in that specific area, and using those skills to contribute to something beyond yourself.
David J. Lunin has this passion, and it's become the fuel for his success. The owner of Evolve Furniture Studio, David hasn't always been a master craftsman and woodworker. He was born and raised in Westfield, NJ. After studying electronic engineering at Monmouth University, David became less and less interested in a career behind the computer. His friend mentioned a job opening at a local furniture refinishing shop, and David's career path and passion changed for a lifetime.
David learned the skills of woodworking and antique furniture restoration as an employee with well-regarded firms such as Irion Company Furniture Makers in Christiana, PA and Kinloch Woodworking Ltd. in Unionville, PA. Over decades of improving and perfecting those skills, specifically in 18th-century Colonial American antiques, David began creating meticulous reproductions of timeless pieces by utilizing the same attention to detail as the original craftsmen. All his pieces are built with traditional joinery like hand-cut dovetails, and mortise and tenon joints, preferring the use of traditional finishing material, such as shellac and varnish.
He also has a rare talent called woodturning, a craft that uses a wood lathe with hand-held tools to cut a shape that is symmetrical around the axis of rotation. This skill and his background in reproductions led him to a new passion for transforming traditional designs into contemporary works of art.
David's showroom, located at 101 Middleton Street off Depot Road near the Spanish Moss Trail, is filled with original designs, and even his DaVinci-inspired wood lathe that he designed and built himself.
For the UpCycled Art Auction, David has converted an early to mid-century chest made of poplar and cherry into a modern adaptation of the original piece to be used as a present-day bar cabinet. Utilizing his hand-cut joinery and furniture finishing skills, David has set the bar for high quality craftsmanship.
Evolve Furniture Studio is open by appointment only. For more information, visit evolvefurniturestudio.com.
The Art of the Story
Cassandra Gillens paints a new original, Making of the Sweetgrass Basket
Lowcountry Habitat for Humanity is excited to announce the offering of "Making of the Sweetgrass Basket" an original 24×36 acrylic on canvas painting donated by artist Cassandra Gillens for this year's Upcycled Art Event.
A masterful composer, Cassandra's genius lies in her ability to zero in on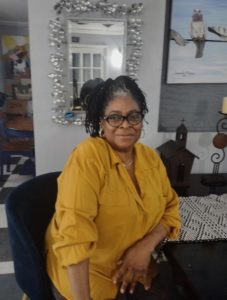 and capture perfect moments reminiscent of the artist's time spent as a little girl in Port Royal. According to Gillens, her style of composition was influenced by the late American artist Norman Rockwell. The artist remembers peeking over the lunch counter of her local drug store to get a look at a piece of art by the artist who Cassandra describes as being able to succinctly "get to the point in the painting."
Colorful paintings of praise houses, shrimpers casting nets, moonlight baptisms, and church goers dressed up in Sunday go-to-church clothes are examples of the subjects Gillens has captured on canvas.  Cassandra's art was and continues to be influenced by the southern culture and history of South Carolina's Lowcountry. In 1969 when the artist was twelve years-old she spent a year with her grandmother who lived in Port Royal. It was during that time and subsequent summers Cassandra spent in the south that the young talent fell in love with the culture and history of the Lowcountry. This historical period remains a theme throughout her body of work.
A self-taught artist, Cassandra started school at St. Francis de Sale in her hometown of Boston, Massachusetts. It was there the six-year-old budding talent met Sister Babler, a Catholic nun who was an art teacher at the school. The nun immediately recognized her talent and nurtured it. The little artist bonded with Sister Babler and other nuns at the school and was adopted as the school's mascot.
Over the last two decades Gillens' artwork has left a footprint in the art world worldwide.  Originals by the artist were featured in the 2008 motion picture Nights in Rodanthe starring Richard Gere and Viola Davis, HGTV's 2013 Dream House, and Southern Living Magazine. She has exhibited throughout the states, as well as in the 2012 ART Revolution, an international art competition that attracts the top echelon of artistic talent worldwide. A sister affiliate of Sotheby's auction house auctioned an original of hers in 2004.
Cassandra Gillens' more recent bodies of work featuring African American soldiers in the Civil War and elements of the Reconstruction Period are on display at Macdonald Marketplace on St. Helena Island.
For more information, please visit www.cassandragillensarts.com.
It's a Family Affair
Mick, Gillian, and Courtney Csernica design with the outdoors in mind
Tidal Creek Haven is just that. A Haven. Hopefully, you've visited. If not,
you're missing out. Tidal Creek Haven is located in the old Fordham Market building on the corner of Bay and Carteret Streets. Owned and operated by a husband/wife/daughter team, the lifestyle shop sells unique items such as one-of-a-kind driftwood & hardwood furniture, indoor gardening plants & materials, handmade decor, as well as uncommon accessories to make your house a home.
Gillian and Courtney Csernica have utilized their design and retail skills to successfully create an environment that encourages you to stay and browse a while by bringing nature and the outdoors inside. Gillian's husband and Courtney's father, Mick, created all the hand-crafted furniture featured throughout the store, including a bar table made with reclaimed wood from the original Fordham Hardware atop a bourbon barrel from Kentucky.
Mick's craftsmanship merges his affinity for the outdoors and his meticulous attention to functional and artistic detail. His design style is a mix of transitional, coastal, and modern farmhouse rustic. Mick creates aesthetically alluring furniture utilizing raw wood, hand-forged steel, and epoxy resin as common elements. His marriage of masculine simplicity with feminine elegance elicits a connection with the effortless beauty of nature. As does Gillian and Courtney's panache for interior design.
For the UpCycled Art Auction, Mick created a statement entryway table using a piece of driftwood he collected from Little Capers Island, just south of St. Helena Island.  This eclectic piece highlights the family's cohesive mission to comfortably live with the outdoors, inside.
For more information about Tidal Creek Haven and the Csernicas, please visit tidalcreekhaven.com.
Tickets for the UpCycled Art Auction are $50. To purchase, please visit www.lowcountryhabita.org. All proceeds benefit LowCountry Habitat for Humanity.
Since its inception in 1990, LowCountry Habitat for Humanity has built 54 homes in northern Beaufort County, providing safe, decent and affordable housing to 68 adults and 137 children. Two houses are under construction in the Shell Point neighborhood, and plans are underway to start construction on two more on Roseida Drive soon.