I've known Fleetwood Covington for a long time. He swears we met sometime in the '80s, but I didn't move to Beaufort 'til 1992. My memories of that decade are a little hazy, but downtown was a bit of a "scene" back then, and at some point, we met. Guitars were involved. Fleetwood made quite an impression on me then, and he still does every time I see him. Which is usually at one of his sister-in-law Debbi's famous Christmas parties.
Recently, Fleetwood came back to Beaufort – he lives in Florence, now – for another fabulous Debbi-catered party, to celebrate the installation of a piece of his artwork at the Pat Conroy Literary Center. In the decades since we first met, he's become a big deal in the art and entertainment worlds – doing commissioned portraits of rock stars and actors and the like. He and Joe Perry of Aerosmith are tight. Johnny Depp has three of his pieces, including one of his "shrunken heads."  (Yeah, I'm not sure what that means, either.) The House of Blues filled a whole gallery with his portraits of blues legends, and even put them on tee-shirts.
I asked Fleetwood how this new Pat Conroy piece stacks up to some of those others, in terms of personal significance.
"Pretty high on the list," he told me. "I lived in Beaufort for a lotta years, and I love the Lowcountry. Anything that's Lowcountry? I'm all in. And, of course, Pat Conroy's more than Lowcountry. He's a national treasure."
We were chatting at the Conroy Center party, surrounded by photographs, paintings, and other various renderings of the Center's patron saint. With all these choices, I wondered how Fleetwood had selected the image he did – a photo taken by Paul Keyserling when Pat was a young man teaching poor Black kids on Daufuskie Island – to recreate on salvaged tin, his signature "canvas."
"I looked at lots of different pictures, but I wanted to show him in action. In essence, this is what he did in the Lowcountry. It's where the rubber meets the road. When you draw Superman, you don't draw him in a suit, as Clark Kent. You draw him in his Superman costume, saving people."
Fleetwood also thought the image would translate well to tin. "It was rough out there at that school, you know? I wanted to show Pat's sacrifice. His altruism. He had a vast store of knowledge and he wanted to share it with people who never would have gotten it otherwise. The tin just drives the rawness of what he did, and he did it for the love of mankind."
Fleetwood typically works on commission – and is quite sought after, though he won't tell you that himself – but this piece for the Conroy Center was a gift. He says it was originally the idea of his sister-in-law – the Center's go-to caterer.
"I had just watched 'Conrack' again, and I was so impressed. Debbi said, 'You ought to do something for the Conroy Center,' and I just said, 'Yeah, that'd be great subject matter.' Anything that impresses me, I'll do a piece on it. Especially if it works on tin."
The grittier and country-er the better, he says. "I've had people try to commission me to do kids with popped collars and such, and it just doesn't work. Rural scenes match the tin."
Fleetwood started working on tin when he was a child. "In Evergreen, South Carolina, I used to do tin signs for my grandfather – stuff like, 'Don't pee here," he laughed. "And I did a picture of my cousin and me fishing on a piece of tin when I was about 8 years old. But I never messed with it again until the House of Blues asked me to do some stuff, and I thought, 'Man, I ought to do it on tin.' I went out to Horton's junkyard in Wilmington and did a whole series."
That was two decades ago. Today, he still finds most of his tin in junkyards, though dilapidated barns are another favorite source. He says it's getting harder to find, and one imagines that's because he's already scavenged most of it within a hundred-mile radius. His friends and family are always on the lookout.
"People call me up and say, 'I've got some tin.' I'm like, 'Thanks! Just bring it over and lay it in the driveway.'"
Fleetwood says he does nothing to the tin "but put the image on it." It seems to be a matter of pride. Or principle.  Or maybe something more mysterious, like superstition. It's a system that's been working for 20 years now, so why mess with it?
"I've got some tin that I'm waiting on the right images for," he told me, "and some images that I'm waiting on the right tin for."
Take baptism, for example. Fleetwood says he's probably got six people waiting for pictures of their kids being baptized – the old-fashioned way. "You have to have a rippled piece of tin that's been lying on a flat piece of tin in order to get those striations, like a river flowing. I can't make it that way. I have to find it that way."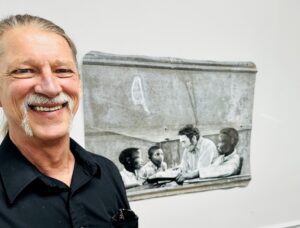 Fleetwood uses carbon and oil to work his magic, which, according to him, isn't really magic at all. "It's straight representation. I don't even call it an artist's interpretation. Being an illustrator, I just do what's there."
Preparing for our talk, I watched an old interview with Fleetwood on YouTube, where he went into more detail about his work. "Some people think it's folk art," he said. "But it's classicism. A factual representation of the subject. You know what I mean? I'm just using tin for a ground. That doesn't constitute folk. Folk may think that, but… "
At the time of that interview – 2009 – some art critic had compared Fleetwood to Norman Rockwell. "That's setting the bar awful damn high," he'd responded. "I'm 50. I'm not gonna live that much longer."
Well, now he's 63 and his body of work has grown significantly, along with his reputation. While Norman Rockwell's legacy is probably safe, it's no small thing to own a Fleetwood Covington. I've got one on my kitchen wall – a birthday gift a few years ago from Fleetwood, his brother Vince, and my dear friend Debbi – featuring a funny, quirky close-up of a frog in rippling water.
I should probably give it back to Fleetwood; he could use the tin for one of those baptism scenes. But I'm way too attached.
See Fleetwood Covington's new Pat Conroy piece – and lots of other great Conroybilia – during the Pat Conroy Literary Festival, October 26 – 29. The Conroy Center is located at 601 Bladen St. in downtown Beaufort. www.patconroyliterarycenter.org