My nephew says that I make the best lasagna in the world. While I'm more than happy to accept the compliment, the truth is, I make the easiest lasagna in the world. My recipe uses no boil lasagna noodles and jarred marinara sauce. I think that the combination of ground beef and Italian sausage along with ricotta cheese instead of cottage cheese sets the dish apart. It's also a great make-ahead meal. Make the lasagna, cover, and place it in the refrigerator, and then pull it out to get to room temperature about an hour before baking. So easy and delicious and way better than frozen store-bought lasagna. Lasagna is also great casual dinner party food. Serve Italian Stuffed Mushrooms and nice bottle of Chianti for a starter course. The addition of Arugula Salad with Lemon Vinaigrette and a basket of garlic bread completes the meal. What about dessert? When Vince and I shared this very meal with a couple of our friends last week, we served frozen Klondike bars. Who says entertaining has to be hard work? Enjoy your summer!
The World's Best Lasagna
I realize that 6 cups of sauce seem like a gracious plenty. The uncooked noodles need the abundance of liquid to cook completely. The pasta will absorb the sauce and emerge tender and delicious.
1 pound ground beef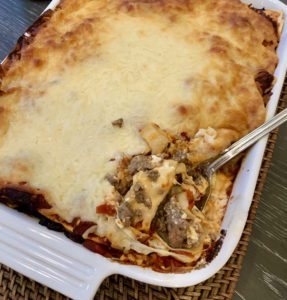 1 pound sweet Italian sausage
2 (24-ounce) jars marinara sauce (6 cups)
1 (9-ounce) box oven-ready (no boil) lasagna pasta
1 (15-ounce) container ricotta cheese
3 cups shredded mozzarella cheese
Cook ground beef and Italian sausage together in a large frying pan until browned. Drain well on paper towels. Spray a deep 9×13-inch baking dish with non-stick cooking spray. Spread 2 cups of marinara sauce in bottom of dish. Top sauce with one layer of lasagna noodles. Break noodles to fit, if needed. Spread half of the meat mixture evenly over the pasta. Add another layer of lasagna. Top evenly with 2 more cups of the marinara sauce. Next, spread the entire container of ricotta cheese in the dish. Use a spatula to spread evenly to the corners. Add another layer of pasta. Top with remaining beef and sausage mixture. Use all of the remaining lasagna noodles to make the final layer. Spread remaining 2 cups of marinara sauce over, using a spatula to make sure the sauce completely covers the pasta. Cover with aluminum foil and bake for 45-50 minutes or until lasagna is heated through and pasta is tender. Remove from the oven. Uncover and sprinkle with shredded mozzarella cheese. Return lasagna to the oven and continue baking for 10-12 minutes or until the cheese is melted. Cool for 5 minutes before serving. Serves 8.
Italian Stuffed Mushrooms
Great cocktail food! Serve with a nice chianti.
24 ounces baby portobello or white mushrooms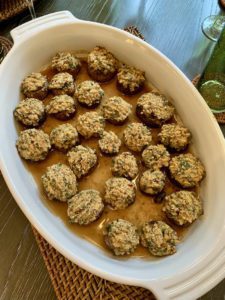 1 cup plain breadcrumbs
½ cup dry white wine
1½ cups chicken broth, divided
½ cup grated parmesan cheese plus 2 additional tablespoons for topping
½ cup chopped Italian parsley
3 tablespoons lemon juice
6 cloves garlic, minced
½ teaspoon salt
¼-½ teaspoon crushed red pepper flakes
Remove stems from mushrooms. Place breadcrumbs, ½ cup white wine, ½ cup chicken broth, ½ cup grated parmesan cheese, ½ cup chopped Italian parsley, 3 tablespoons lemon juice and minced garlic in a bowl. Season with salt and red pepper flakes. Mix well to combine. Use the breadcrumb mixture to stuff the mushrooms. Preheat oven to 350 degrees. Place stuffed mushrooms in a large baking dish. Pour remaining 1 cup of chicken broth in the dish with the mushrooms. Sprinkle mushrooms with remaining 2 tablespoons of grated Parmesan cheese. Bake for 25-30 minutes, or until tender. Serves 8.
Arugula Salad with Lemon Vinaigrette
The lemon vinaigrette is the star of this delicious salad. Lemon adds a bright flavor to the peppery bite of the arugula.
For the vinaigrette:
1/3 cup lemon-infused olive oil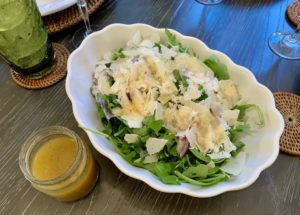 ¼ cup white balsamic vinegar
2 tablespoons honey
1 tablespoon Dijon mustard
Salt and pepper, to taste
For the salad:
Fresh arugula
Red onion, very thinly sliced
Shaved parmesan cheese
Place vinaigrette ingredients in a small jar. Shake well to combine. Place arugula in a large salad bowl. Top with thinly sliced red onions and shaved parmesan cheese. Drizzle with lemon vinaigrette before serving. Makes about ¾ cup vinaigrette. Refrigerate unused vinaigrette.
The writer owns Catering by Debbi Covington and is the author of three cookbooks, Celebrate Beaufort, Celebrate Everything! and Dining Under the Carolina Moon. For more great recipes and to view her cooking demonstrations, visit and subscribe to Debbi's YouTube channel. Debbi's website address is www.cateringbydebbicovington.com. She may be reached at 843-525-0350 or by email at dbc@cateringbydebbicovington.com.