Cooking is therapy for me. A day alone in the kitchen is not only a great chance to be creative, it's also an opportunity to escape from the concerns of the day. It's kind of like culinary yoga. Over the years, I've learned that messing up every dish in the house is very good for my soul.
I've been cooking a lot this summer. Many new and yummy recipes have been added to my catering menu. Just as many have been added to our dinner party repertoire and I'll be sharing a bunch of them over the next several issues. Stay tuned and Happy Cooking! xox

Spinach Ricotta Roll
This yummy vegetarian recipe is basically a savory sponge roll with a ricotta filling. It's delicious served warm or chilled. It also reheats well in the microwave.
For the spinach roll:
5 large eggs
2 ounces mascarpone cheese (or cream cheese), softened
3 tablespoons all-purpose flour
¼ teaspoon baking powder
½ teaspoon salt
Pinch of ground nutmeg
2 (10-ounce) packages frozen chopped spinach, thawed and squeezed dry
¼ cup grated parmesan cheese
For the ricotta filling:
15 ounces ricotta cheese
2 tablespoons sour cream 
1 teaspoon garlic powder
½ cup diced sun-dried tomatoes
¼ cup grated parmesan cheese
Preheat oven to 350 degrees. Line a 9×13-inch baking pan with aluminum foil. Spray with aluminum foil with cooking spray. In a large bowl, combine eggs with mascarpone cheese, flour, baking powder, salt and nutmeg. Stir in spinach. Spread spinach mixture evenly in prepared pan. Bake for 12 to 15 minutes or until set in the center. Sprinkle a thin tea towel evenly with ¼ cup grated parmesan cheese. Invert cooked spinach onto the parmesan cheese on the towel and gently peel off the aluminum foil. Roll the spinach, like a jelly roll, in the towel and set aside to cool slightly. In a bowl, mix ricotta cheese with sour cream, garlic powder, sun-dried tomatoes and ¼ cup parmesan cheese. Gently unroll spinach and evenly spread the ricotta mixture over the top. Re-roll the spinach with the filling, removing the tea towel. Serve warm or chilled. Serves 8.

Chipotle Shrimp in Parmesan Cream Sauce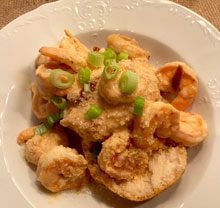 Serve this delicious shrimp over hot cooked noodles, rice or even freshly baked biscuits like I did. Canned chipotle peppers in adobe sauce may be found on the Hispanic food aisle in your local grocery store. 
1 tablespoon olive oil
1 tablespoon butter
¼ cup chopped red onion
2 cloves garlic, minced
1 pound shrimp, peeled and deveined
1 heaping teaspoon chipotle peppers in adobe sauce
Salt and pepper, to taste
¾ cup chicken or vegetable broth
¼ cup heavy cream
3 tablespoons grated Parmesan cheese, divided
1 tablespoon cornstarch
2 tablespoons chopped green onions
Heat olive oil and butter over medium heat in a large frying pan. Add onions and garlic and cook for 1 minute. Add shrimp and chipotle peppers and cook until shrimp and pink and cooked through. Season with salt and pepper. Remove shrimp to a plate. Over medium-high heat, add chicken broth, heavy cream and 2 tablespoons grated Parmesan cheese. Let simmer. Sprinkle cornstarch over the sauce mixture and whisk in until mixture begins to thicken. Add cooked shrimp back to the sauce and cook for 1 minute more. Sprinkle with remaining Parmesan cheese and chopped green onions before serving. Serves 2.

Strawberry Lemon Blondies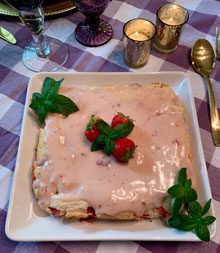 These easy blondies are much like a soft shortbread. They're moist and dense with little pockets of fresh strawberries in the batter. A hint of lemon gives these a delicious treats a tangy vibe.
For the blondies:
2 sticks of butter, at room temperature
¾ cup sugar
1 large egg
¼ cup freshly squeezed lemon juice
2¼ cups all-purpose flour
½ teaspoon baking powder
1 cup diced fresh strawberries
For the glaze:
1 cup confectioner's sugar
1 tablespoon strawberry jam
1 tablespoon fresh lemon juice
Preheat oven to 350 degrees. Line a 9×9-inch baking dish with parchment paper; leaving long edges to help lift out the blondies for easy slicing. Cream the butter and sugar until fluffy. Beat in the egg and lemon juice. Add the dry ingredients and mix until no more dry flour is present. Gently fold in the diced strawberries. The mixture will be thick. Spread the mixture into prepared pan as evenly as possible. Bake for 32 to 38 minutes, just until the edge begin to turn golden brown and the center is set. A toothpick inserted in the center will be moist but not wet. Do not over-bake or the blondies will be dry. Life the blondies onto a wire rack using the edges of the parchment paper. Let cool completely. In a small bowl, whisk together the confectioner's sugar, strawberry jam and lemon juice until no lumps remain. Spread the glaze over the cooled blondies. Let glaze set before slicing. Makes 12.
The writer owns Catering by Debbi Covington and is the author of three cookbooks, Celebrate Beaufort, Celebrate Everything! and Dining Under the Carolina Moon. Debbi's website address is www.cateringbydebbicovington.com. She may be reached at 525-0350 or by email at dbc@cateringbydebbicovington.com.