Celebrating the Lowcountry Weekly Gang (Volume One)
By Debbi Covington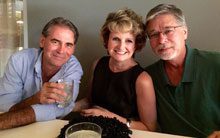 If a picture is worth a thousand words, then 20 pictures has to be a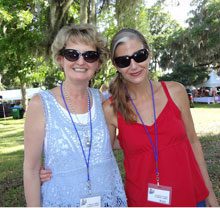 volume. Y'all know that I've been writing a food column for Lowcountry Weekly since 2005. What you probably didn't know is that I'm also the unofficial "every time we get together" photographer and keeper of the scrapbooks. Yep. I'm that person who shoves her iPhone into the hands of the most available body and sweetly asks, "will you please take a picture of us?' When it comes to photos, I have no shame.
In the beginning, everyone would fuss and grumble about having to pose – until they started requesting copies. Over the years, we've attended lots of local events, festivals and fund-raisers; wine tastings, book signings and costume parties; judged bbq cook offs and reviewed restaurants. I literally have thousands of pictures of our Lowcountry Weekly family. Instead of celebrating the 20thanniversary of our beloved LCW at a grand soiree, we're commemorating this special milestone with a trip down memory lane. Captured in some of our most professional and some unprofessional moments, this is us. When this wretched pandemic has passed, the Lowcountry Weekly Gang will ride again! I've already ordered a set of new photo albums for Volume II. From all of us, to all of you, thank you for reading Lowcountry Weekly.
Margaret and Debbi with the Lee Brothers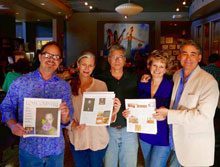 Brad Ballingto with our gang at Breakwater, celebrating Debbi's 250th column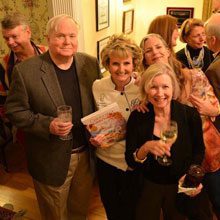 Debbi and Margaret with Pat Conroy and Cassandra King at a Beaufort International Film Festival party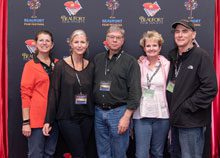 Amanda Hannah with the rest of the gang, at Film Festival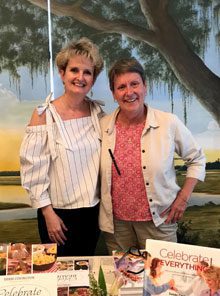 Debbi with columnist Vivian Bikulege at at cookbook party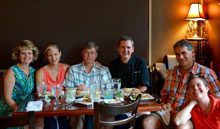 The Burger Beat gang, including our beloved Susan Shaffer, with Chef Richard Wilson at Maggie's
Margaret and Debbi with Bernie Schein at his booksigning, Achorage 1770
An oldie, at the Cuthbert House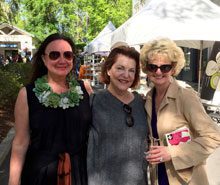 Columnists Laura Packard and Susan Murphy with Debbi at Habersham
Mark Shaffer shooting a Southern Living party at Habersham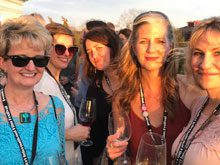 Debbi and Margaret with some Film Festival friends on the top porch at Anchorage 1770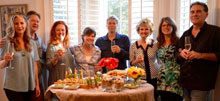 Our gang at Debbi's for brunch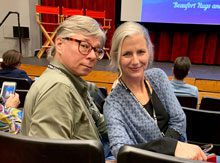 Margaret and Jeff taking in some movies at last year's BIFF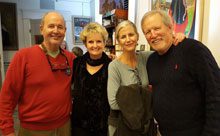 Debbi and Margaret with writers Lynn Seldon and John Warley at NeverMore Books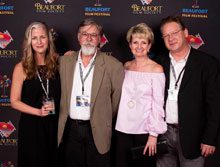 Margaret, Jeff, Debbi & Vince at a BIFF party… with Jeff's beard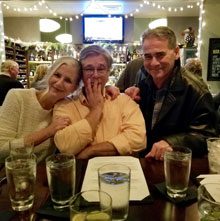 Margaret, Jeff & Mark at Breakwater for somebody's birthday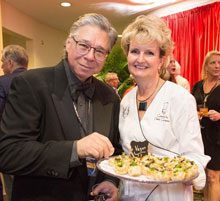 Jeff enjoying Debbi's food at the BIFF Awards cocktail party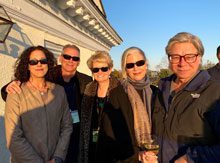 Our gang – with newest member, Tami Conner – on our favorite porch at Anchorage 1770, filmmakers reception, BIFF 2020.
The writer owns Catering by Debbi Covington and is the author of three cookbooks, Celebrate Beaufort, Celebrate Everything! and Dining Under the Carolina Moon. Debbi's website address is www.cateringbydebbicovington.com. She may be reached at 525-0350 or by email at dbc@cateringbydebbicovington.com.