I didn't have a Sweet Sixteen party when I actually was sixteen. Thanks to my association with Jeff and Margaret Evans and Lowcountry Weekly, I finally had one last Saturday night. Those of you who know me, know that I'll make up a reason to celebrate something, even when there's no real occasion. In this case, I think a little party to commemorate a milestone was in perfect order. As of April 17th, I've been writing a recipe column for Lowcountry Weekly for 16 years. I'm very proud of my perfect record of sixteen years without missing a deadline — though I will concede (and publisher, Jeff Evans, will confirm) that some of the columns were occasionally more than a bit tardy.
The recipes this week are from my celebratory Sweet Sixteen soiree. Vince and I hosted a small indoor/outdoor gathering of 30 people. Guests were some of the LCW staff and many of my dearest friends. I served a cocktail buffet that featured canapes, dips, shrimp and a sweet treat. As always, the recipes are delicious, easy and fun — excellent party food!
If you'd like to see all of the recipes from all of the columns from past years, please visit my Facebook page, "Celebrate Every Day – with Catering by Debbi Covington." Every column that's archived with Lowcountry Weekly is linked there. Also, with photographer Susan DeLoach's assistance, I've started sharing some cooking videos on YouTube. If you visit the LCW website, you'll see the link to a new video and recipe every week.
Thank you for reading Celebrate Every Day, for purchasing my cookbooks and for supporting Catering by Debbi Covington. I truly appreciate your comments and feedback. I'm still creating yummy new recipes and inventing fun party ideas. Please stay tuned. Cheers to 16 more years!
The Pink Princess
Pink vodka is delicately flavored with lemon. For my little soiree, we used Pink Whitney vodka. Serve this cocktail like a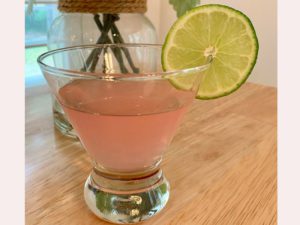 martini, over ice or in a double shot glass.
1 bottle pink vodka
1 cup club soda
½ cup cranberry juice
Juice of 1 lime
Ice, for shaking
Fresh lime slices, to garnish
Pour vodka, club soda, cranberry juice and lime juice in a large pitcher. Stir to combine. To serve, fill a martini shaker with ice. Pour one serving of the vodka mixture over the ice. Shake and serve in cosmopolitan or martini glasses. Garnish with a slice of lime. Makes 10 to 12 cocktails.
Chinese Buffet Crab Dip
Surimi is imitation crabmeat. If you've ever been to a Chinese buffet, you've probably tried this dish. Sometimes called
Mayonnaise Crab or Crab Casserole, it's one of the most delectable selections on the buffet. I've adapted it a bit to create a delicious crab dip. Serve it hot with crackers or toasted French bread.
1¼ cups shredded cheddar cheese, divided
16 ounces surimi
1 (8-ounce) package cream cheese, softened
½ cup sour cream
¼ cup mayonnaise
2 stalks celery, chopped
¼ cup chopped red onion
1 tablespoon lemon juice
1¼ teaspoons Worcestershire sauce
1 tablespoon sugar
Pinch garlic salt
Dash dried dill weed
Dash Old Bay Seasoning
Reserve half of shredded cheddar cheese. Preheat oven to 350 degrees. Lightly grease a casserole dish with cooking spray. Combine all of the ingredients and remaining half of the shredded cheddar cheese in a medium bowl. Spoon into prepared casserole and top with remaining half of shredded cheddar cheese. Bake, uncovered, for 25 to 30 minutes or until heated through. Serve with crackers or crusty bread. Serves 12 to 15.
Mongolian Meatballs
What's a party without meatballs? This recipe is super-easy because it uses the frozen store bought variety. Of course, you can always make your own chicken or turkey meatballs.
1 (2-pound) bag frozen beef meatballs, thawed in refrigerator
½ cup hoisin sauce
¼ cup rice vinegar
3 cloves garlic, minced
3 tablespoons soy sauce
1 teaspoon sesame oil
¼ teaspoon ground ginger
¼ teaspoon crushed red pepper flakes
Toasted sesame seeds
1 green onion, sliced
Preheat oven to 350 degrees. Place thawed meatballs in a large bowl. In a smaller bowl, mix hoisin sauce with rice vinegar, garlic, soy sauce, sesame oil, ground ginger and red pepper flakes. Pour over meatballs and toss gently to coat. Pour meatballs and sauce into a baking dish. Cover and bake for 45 minutes or until meatballs are hot and sauce is bubbly. Serve in a chafing dish. Garnish with sesame seeds and sliced green onions. Serves 10.
Zesty Marinated Shrimp
Tarragon vinegar is the secret ingredient in this tasty shrimp marinade. It adds just the right bit of tang.
2 pounds shrimp, peeled and deveined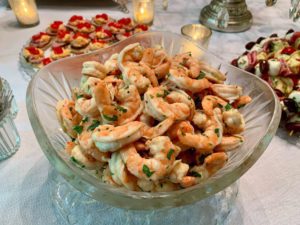 ¼ cup tarragon vinegar
¼ cup red wine vinegar
½ cup olive oil
¼ cup Dijon mustard
1 tablespoon fresh lemon juice
¼ teaspoon crushed red pepper flakes
½ teaspoon salt
¼ teaspoon black pepper
¼ cup chopped green onions
¼ cup chopped Italian parsley
Cook shrimp in boiling water until pink. Drain well and transfer to a large bowl. In a smaller bowl, mix vinegars with olive oil, mustard, lemon juice, red pepper flakes, salt, black pepper and fresh herbs. Toss gently to coat. Cover and refrigerate for at least 8 hours before serving. Serves 8 to 10.
Carolina Cobb Dip
I served Carolina Cobb Dip at room temperature. If you choose to heat it, bake it uncovered in a 350 degree oven for about 20 minutes or until the cream cheese is warmed through.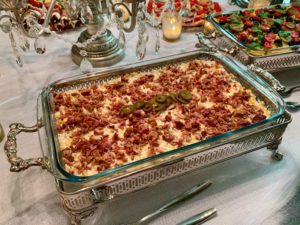 1 (8-ounce) package cream cheese, softened
1 (29-ounce) can corn, drained
½ cup diced jalapeno peppers, drained
Dash garlic salt
Dash chili powder
½ cup cooked and crumbled bacon
In a large bowl, combine cream cheese with corn and jalapeno peppers. Season with garlic salt and chili powder. Spread in a serving dish and top with cooked and crumbled bacon. Serve at room temperature with tortilla chips. Serves 10 to 12.
7 Layer Tex-Mex Dip
Always a favorite at parties! Who doesn't love a good layered bean dip?
1 (31-ounce) can refried beans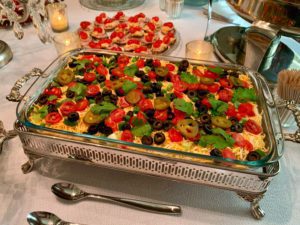 1/3 cup sour cream
2 tablespoons taco seasoning
2 cups shredded fiesta blend cheese
Sliced grape tomatoes
Sliced black olives
Pickled jalapenos
Chopped green onions
Fresh cilantro leaves
In a medium bowl, mix beans with sour cream and taco seasoning. Spread mixture in a serving dish. Top with shredded cheese. Garnish with tomatoes, black olives, jalapenos, green onions and cilantro leaves. Serve at room temperature with tortilla chips. Serves 10 to 12.
Pork Tenderloin and Pimento Cheese Crostini
I used grilled pork tenderloin to top these delightful canapes. Use your favorite pork tenderloin recipe and/or your favorite pimento cheese recipe to create your own version.
For the Pimento Cheese: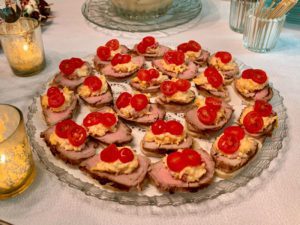 1 pound sharp cheddar cheese, shredded
1 (3-ounce) package cream cheese, softened
1 cup mayonnaise
1 teaspoon Worcestershire sauce
2 (4-ounce) jars diced pimentos, drained well
Dash cayenne pepper
Dash hot sauce
Black pepper, to taste
For the tenderloins:
2 (1-pound) pork tenderloins
Salt and pepper
To make the crostini:
2 thin French baguettes
Sliced grape tomatoes
Place cheddar cheese, cream cheese, mayonnaise and Worcestershire sauce in a large bowl; mix to combine. Fold in diced pimentos; season with cayenne pepper, hot sauce and black pepper. Refrigerate until ready to serve.Season pork tenderloins with salt and pepper. Grill, roast or bake tenderloins to desired doneness. Let pork cool a bit and then cut into thin slices, between 15 and 20 slices per tenderloin. Slice baguettes into thin slices. Top each baguette slice with a slice of pork tenderloin. Using a very small ice cream scoop, top each appetizer with a scoop of pimento cheese. Garnish with grape tomato slices. Serve at room temperature. Makes 30 to 40 crostini.
Italian Tortellini Skewers
Beautiful, tasty and fun to eat!
1(20-ounce) package refrigerated cheese tortellini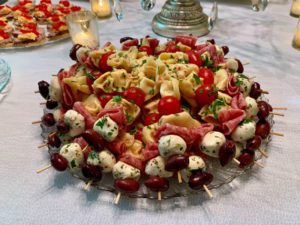 2 cups prepared Italian salad dressing
Wooden skewers
Bocconcini (baby mozzarella cheese balls)
Sliced salami
Whole pitted kalamata olives
Grape tomatoes
Chopped fresh Italian parsley
Cook tortellini according to package directions. Drain well and place in a large container with a tight fitting lid. Toss hot pasta with prepared Italian dressing. Mix well to coat. Cover and refrigerate for at least 4 hours. Soak the wooden skewers in warm water for 30 minutes to prevent splintering. To make the appetizers, thread 4 to 5 pieces of pasta, cheese, salami, olives and tomatoes on wooden skewers and place on a serving platter. Garnish with chopped fresh Italian parsley before serving. Makes 40 to 50 skewers.
Spinach and Sausage Empanadas
These incredibly easy to make canapes were a bit hit at my party. They will certainly be a big hit at yours, too.
1 (13-ounce) package frozen creamed spinach, thawed in refrigerator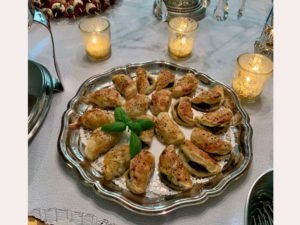 1½ cups cooked breakfast sausage
2 (17.3-ounce) packages frozen puff pastry, thawed in refrigerator
1 egg, beaten
Poppy seeds, to garnish
Preheat oven to 375 degrees. Line 2 large baking sheets with aluminum foil. Spray prepared baking sheets with cooking spray. In a medium bowl, mix creamed spinach with breakfast sausage. Unfold one puff pastry sheet onto a cutting board. Using a rolling pin, roll out pastry to smooth the fold lines. Using a round cookie cutter, cut out circles. Place 1 teaspoon of spinach-sausage mixture in the center of each puff pastry round. Fold over and pinch edges to seal. Place on prepared baking sheets. Repeat with remaining puff pastry sheets. (You should get between 12 to 16 rounds per sheet of pastry.) Brush each appetizer with some of the beaten egg. Using a small knife, make a slit in the top of each appetizer to release steam while baking. Sprinkle with poppy seeds and bake in preheated oven for 15 to 20 minutes or until the pastry has puffed and the empanadas are golden brown. Serve warm. Makes 52 to 54 appetizers.
Sweet Sixteen Krispie Cookies
My husband Vince has called Rice Krispie Treats "Kripsie Cookies" for all of our marriage. After 30 years of living with him I've finally given in. They're officially Krispie Cookies at our house now. At my party, I served these yummy sweet treats cut in small squares on the dessert table and then made large to-go party favor cookies that I bagged in clear cellophane with a pink bow.
6 tablespoons salted butter
8 cups mini marshmallows
12 cups rice krispies cereal
1 cup white candy melts
1 cup pink candy melts
Pink sprinkles
White sprinkles
Pearl sprinkles
Silver dragees
Spray a 9×13-inch baking dish with cooking spray. In a large pot, over medium heat, melt butter and marshmallows, stirring constantly until well-combined and completely melted. Remove from heat. Add cereal, stirring well to combine. Press mixture into prepared pan with a spatula coated with cooking spray. Let cool for at least one hour. Cut into squares and place on a baking sheet lined with aluminum foil. Melt white candy melts in microwave according to package directions. Using a piping bag, drizzle melted candy over the cookie squares. Repeat with the pink candy melts. Decorate with sprinkles and dragees before the candy drizzle has time to harden. Makes 12 to 24 depending on the size of your squares.