Tatiana Zalapskaia is the featured artist in the Beaufort Art Association (BAA) Gallery show that opens April 2 through May 29.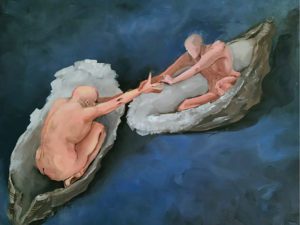 The title of her show is "The World Is Your Oyster."  An artist's reception will be held at the Gallery at 913 Bay Street in Beaufort on Friday, April 9, from 5 – 8 p.m.
A native of Murmansk, Russia, with 8 month-long winters, Tatiana says she learned to be excited by simple things, like blooming plants, lush foliage and fresh vegetables. She attended university in Moscow studying chemistry for eight years. During that time, she says she worked hard, slept little and traveled all over Europe. On Thanksgiving 2018, she followed her future husband Sam, whom she had met earlier, to Beaufort, SC.
Inspired by Beaufort's prolific art community, Tatiana picked up painting as a means of expressing herself.  In her words, she says, "Painting is an effective way to express yourself if you can't find a proper word in a foreign language."
Mostly self-trained, Tatiana joined the BAA in 2019, and is one of the younger exhibiting artists. She recently joined a studio art program at USCB to polish her craft and speed up her growth. She brings contemporary art with this exhibit using narrative imagery and unusual methods, like painting over silver leaf.
"I don't try to reflect the outside world in my art," she says.  "However, I portray objects in a recognizable, realistic manner as a vehicle for expressing my emotions.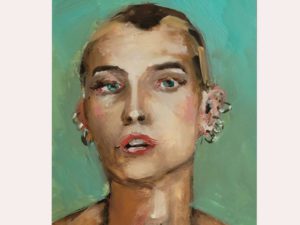 My goal as an artist is to share my emotions with other people and see that they also feel something."
The exhibit is divided into two parts. The first part is titled "Shelter," which features the shell as a central metaphor for shelter. The second part of the exhibit symbolizes coming out in vibrant, painterly portraits and landscapes admiring the beauty and diversity of Beaufort.
Besides Tatiana's work, the work of other artists who are members of the Beaufort Art Association will be on exhibit, as well.  Chartered in 1957, the Beaufort Art Association is a tax-exempt membership organization.  Currently, about 175 local artists belong, with about 65 of them exhibiting their work in the Gallery.  To find out more, go to www.beaufortartassociation.com, or call 843-521-4444.