Peaceful Coastal landscapes by Frank Gorman at the BAA
A painting evokes a mood or remembrance of a special visit, vacation, or happening. It graces a wall in order to remind us of a favorite location, and leave us with a "souvenir," as the French would say. Frank Gorman has painted local scenes that capture bright color and invite us to ponder nature and ease ourselves into these delectable saltwater scenes.
Our wonderful Lowcountry gives us a great many opportunities to be close to nature and is the frequent subject of Mr. Gorman's paintings. One sees ocean, rivers, marshland, and experiences moving waters and changing tides. Add to this Spartina grasses, Palmetto trees, and sturdy Live Oaks with Spanish moss, and one has a unique landscape of the Lowcountry. These vast skies are home to Egrets, Osprey, Pelicans, and Seagulls, who soar high and skim low above the changing waters, searching for a variety of delicious seafood, and live in these canvases.
Originally from Chicago and having lived in Indiana, Michigan,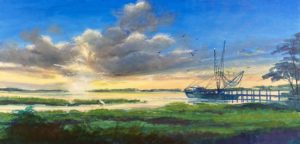 Florida, and now South Carolina, Mr. Gorman has been a registered Architect for over fifty years, designing buildings and living/working in over twenty countries. Since retirement, he volunteers by architecturally designing/master planning schools, universities, and hospitals in developing countries, with Engineering Ministries International, a non-profit agency.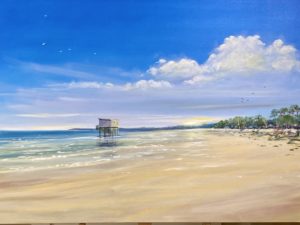 Mr. Gorman studied at the University of Illinois, the Art Institute of Chicago, and in France. In retirement, he expanded his love of painting to doing acrylics and oils on canvas. He has produced over 130 paintings, and sold over 40. His work is shown in galleries in Michigan and South Carolina.
Blue Horizon is a Featured Artist exhibition at Beaufort Art Association, from March 1 to April 30. There is an opening reception to coincide with "First Friday on Bay Street," March 4- Friday, from 5-8pm and is open daily from Tuesday through Sunday, 11am to 4pm.
You are invited to visit the salty scenery on canvas at BAA! www.beaufortart.org