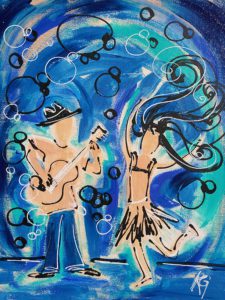 This July, Art League Gallery will showcase the music-inspired paintings of Hilton Head native Kristin Griffis. Griffis' art is child-like and fun, with bright colors and bold strokes. "Audio Visuals is about seeing music portrayed in art, overlapping the senses, seeing something in a new perspective," says Griffis. "This will be a very colorful exhibit, just as music is lively, Audio Visuals will be an exciting sensory experience."
Griffis, a Hilton Head Island native, is a self-taught, life-long painter unafraid to experiment. From hand painting clothing to be sold in national clothing catalogs to musical instrument design, her career and passions have been wide ranging.
As a synesthete—someone sees different colors when she hears music—she always paints to music and much of her paintings are inspired by it. Her artwork hangs in the private collections of musicians and music lovers, and graces the cover of Martin Lesch's jazz CD Journey Through Jazz. Two of her paintings can be seen on General Mills' Immaculate Baking food packaging.
Audio Visuals will be on exhibit at Art League Gallery July 6-31, 2021. An artist reception will be held on Wednesday, July 7, 5-7pm. Griffis will be holding live painting demos on Wednesday, July 14 and July 21, 10am-12pm. Please RSVP for the reception and demos at gallery@artleaguehhi.org to prevent overcrowding.
COVID safety: Masks are mandatory for employees and patrons.
Art League Gallery is located mid-island inside Arts Center of Coastal Carolina, 14 Shelter Cove Lane, Hilton Head Island, 843-681-5060.